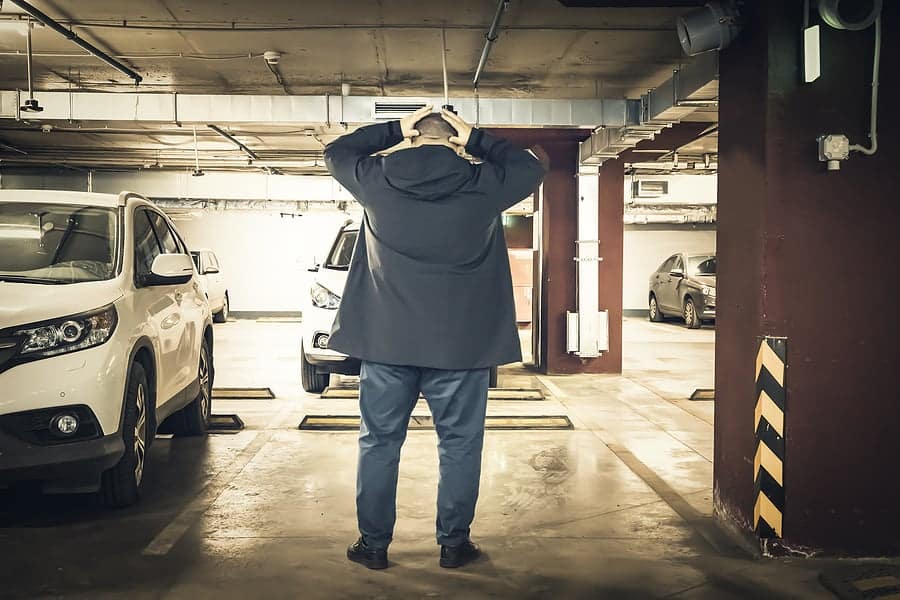 Car crime has increased 56% over the last 4 years. According to police reports published in 2018, this is still better than the high point of vehicle crime in the 1990s. Waking up in the morning or returning to a car parking lot, only to find your vehicle is missing is not only annoying, but resolving the situation can be time consuming and soak up your available finances. What action steps should you take if you believe your vehicle has been stolen?
Table of contents:
Check First
When you discover that your car is missing, the most important thing to do is stay calm. Go through the basics. Are you sure that you haven't left your vehicle somewhere else? If it's missing from a car park, could it potentially have been towed, because you forgot to buy a ticket? Take a scout around for any signs that warn of towing – or alternatively check with the local council, or in London you can use the TRACE service, to see if your vehicle has been impounded.
Make a Police Report
Positive your car has been stolen? Make a police report. They'll give you a crime reference number, generated when the national computer records are updated, which your insurance company will need if you want to make a claim. You'll also have to submit the following information:
Number plate of the vehicle
Make, model and colour
Details of any personal belongings left inside
The police will inform the DVLA about the theft and if they've subsequently found the vehicle.
Insurance Claim
Not all insurance policies cover theft unfortunately. Double check your policy to make sure that you're covered for theft. Many of the less expensive third party policies will only cover you for damages caused to other motorists – meaning that you will often need to add fire and theft onto the policy. Alternatively if you purchase a fully comprehensive policy this covers you for everything – including damage you've caused to your own vehicle.
Armed with your crime incident number and all of the facts of the matter – submit your claim to your insurer. If it's approved and they agree to settle, they'll want to pay you the going market rate for a car of similar age and equivalent model. Doing some research at this stage will put you in good stead, allowing you to assess their offer, and if you think they're trying to come in cheap, you'll have plenty of evidence to show them the current market value.
Be aware that making a claim under theft could end your policy. If there are still outstanding payments that you need to make against the premium, this could mean that you'll need to continue paying it off until the end date.
Making a Claim
Decided to go ahead and claim on your insurance? Be sure to have all the facts at your fingertips and don't guess or estimate anything. You'll need to give the insurer the exact, accurate details to ensure that your claim is processed smoothly and quickly. As we mentioned, there is a huge variation in policies, so be aware of the following constraints on many claims:
Hire cars – will only usually be paid for if you have specific instructions relating to rental cars in your policy.
Personal possessions – again if your policy mentions personal possessions, then you should be able to claim for these, otherwise you may be able to claim on your household policy, if you don't have cover from your car insurance.
Car-jacking – very few policies (around 4 out of 5) do not offer any cover for trauma counselling or injuries sustained in a car-jacking incident. However, if it is mentioned in your policy, you should get compensation alongside appropriate payments for passengers that were hurt.
What to do if your Claim is Rejected…
Insurance companies will often look extensively at your claim to check it is completely valid and you've taken the proper steps to protect your vehicle. If they believe you haven't been careful enough, for instance leaving the keys in the car, the windows open, or there is no sign of a break in, then there's a chance your claim could be rejected.
If this happens to you, then gather as much evidence as you possibly can to support your case, and then use your rights to dispute the decision. Think that your insurer is taking too long to settle your claim? You should be able to make a complaint. Finally, if you do make a claim, expect your insurance to rise when looking at next year's premiums.
Inform the DVLA
Should your insurance company pay out then you must inform the DVLA that the vehicle has, in effect, been sold to the insurance company. Personalised plates will need to be retrieved before that sale using the following application form. To complete the process of transferring your vehicle to the insurer, follow these steps:
Inform the DVLA online or fill in the sell, transfer or part exchange section of your log book and send it to the DVLA in the post with details of the insurance pay out.
Give the remaining part of the log book to your insurance company, as the new owner of the vehicle.
If the insurance company requests the log book, then you will need to write the details of the claim in a letter to the DVLA – containing the insurer's name, the date of the claim, make, model, colour and registration number of the vehicle and your signature.
Remember that until the insurance company makes an offer and you accept it, the car still belongs to you. Only send the details of the transfer when full payment is complete.
What if my Car is Recovered?
There is a chance that your car could be recovered or found. If you're lucky enough to locate it then don't drive it away. It could be damaged or broken down – or worse still, it could have been used to commit a crime. In this instance, follow these steps:
Inform the insurer immediately, to start a claim, giving them your crime reference number.
Get in touch with the police, who will arrange a recovery, which could cost you around an average of £150 depending on the location and size of your stolen car.
The PNC, HPI and DVLA databases are updated to reflect the car's record as stolen or recovered. This will not affect the sale price of your car, or appear on the HPI check, but it will be recorded on the anti-fraud and theft register, meaning insurers can see this detail, and may use the information in working out future policy pricing.
Your insurance company will have the car inspected for any damage, repair costs or work out if it's beyond reasonable repair or needs to be written off. You can make a claim for the police vehicle recovery fee, if it's mentioned in the policy.
Claims for light damage should be settled quickly, heavier damage may take longer, but under insurance best practice, you should receive an offer of settlement within 3 months.
Write Offs and Unrecovered Vehicles
Car hasn't been found? Or maybe it's been found in such a state, the insurer has decided to declare it a right off? You should be offered the market value (technically known as actual cash value of ACV) of the car when it was stolen. Expect to receive a lot less than the money you originally paid for the vehicle, especially if you purchased a new car, straight off the forecourt.
Unhappy with the ACV offered? You are allowed under law to dispute this amount, however, as mentioned before you will need documentation supporting your argument – such as instances of similar cars being sold at auction or on online sites. If you are worried about the ACV, then you can buy guaranteed asset protection insurance, which will top up your normal insurance. This can be especially useful when you have an essential work vehicle such as a van, that's used for travel to your jobs with all your tools.
Finally
By taking the proper care you can minimise the chance of your vehicle being stolen. It's a sad fact that car crime is definitely on the increase. However, with the right precautions you can dramatically reduce the chances of becoming another victim. With car crime, even though insurers will cover you financially for the loss, there are other knock on effects, such as inconvenience, time spent on the claim and with the police and having to find another car – that are in many ways more frustrating than the loss of money.