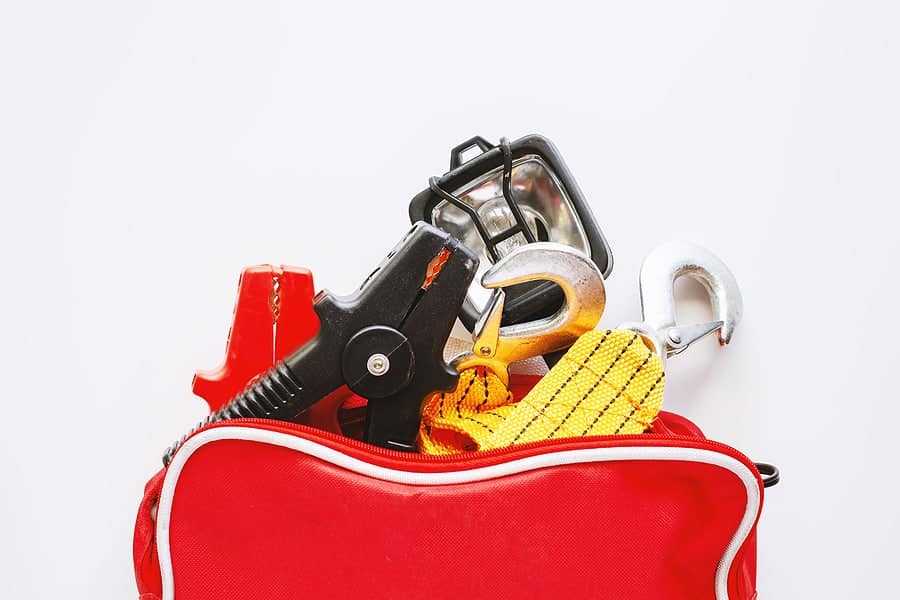 Your breakdown survival kit. We've touched on this in previous blogs, however it's such an important thing to have in the back of your vehicle, we decided to go into more detail. Many people like to check their car regularly for underlying faults and issues, and take their vehicle for periodic services. However, unfortunately no matter of forethought can stop a breakdown from happening regardless of the season.
No one wants to be in a breakdown, but sometimes it inevitably happens to the best of us. In such an event an in-car survival kit will be a godsend. So what should you put in your kit?
Essentials
These are the items that you simply cannot do without, should your vehicle breakdown:
Mobile phone power bank
You gave the mobile phone to the kids in the back of the car to keep them quiet. Now all the juice is gone. The SOS phone is several miles away according to the Sat Nav. This is where a mobile phone power bank can give you enough battery to make a few calls to breakdown companies, garages or even relatives, who can rescue you from your predicament. And of course, once you've made contact with the appropriate people, you can hand the phone back to the children to keep them happy whilst you wait.
Hi-vis vest or jacket
Be seen, be safe. A must have item if you need to leave the car for any reason, but particularly if you're broken down on a busy road. Especially at night or in bad weather where visibility is poor and compromised for other road users. And it will be you best friend if you need to make a trip to an SOS phone or to get petrol.
Red warning triangle
A little helpful sign that alerts other motorists to your presence. Folds away flat in the boot for easy storage. You'll hardly know it's there, unlike other drivers who will know to look out for your car when you place this warning around 45 meters (that's 60 steps) away from the vehicle.
Spare wheel and jack
If you have space in the car, check that your spare wheel is not punctured, damaged and is road legal. Also check you have a jack to hoist the car up, and the appropriate tool to remove the wheel nuts.
If you are unsure of the process, there's nothing stopping you from doing a little rehearsal on your drive, which not only checks you have all the right kit in the car, but will also give you confidence if you get a flat. Especially seeing as this is one of the leading causes of breakdowns and you don't want to get caught out.
Puncture repair kit
Many modern cars don't come with a spare wheel, but instead give you an emergency adhesive kit with the car. If this has been used or is missing then something like Tyreweld could be your knight in shining armour. It seals up punctures and reinflates the tyre at the same time, giving it enough life and strength to get you to a garage where you can get a proper fix.
Be aware that you may need to purchase a new tyre, as Tyreweld can be tough to remove from tyre interiors. And a foot pump is essential to reinflate the tyre, once you've used an adhesive rescue product.
Torch
In a breakdown in the dark, a torch is a lifesaver. Especially if you don't want to run the battery down on your phone by using the torch function. Whether you need to inspect the outside of your car, or check your steps walking around at night.
Waterproof torches are a great idea and spare batteries will never go amiss. Or if you never want to avoid ever having power issues, why not get a wind up torch?
Warm, waterproofed clothing
Even in the summer the nights can be cold. In the winter, nearly any time of day is freezing. If your car breaks down, and you can't use the heating, you might run the risk of getting hypothermia or a chill.
A tin foil blanket will help keep the heat in, and having a bunch of jumpers, long sleeve shirts, and leggings allow you to build up layers that keep out the cold. Waterproof clothing is a no brainer when it comes to the awful weather that's a feature of every British season.
Water
Dehydration is a real challenge at any time. If you're stuck in the car for long periods, or if you need to go on a long, gruelling walk, trudging through the country tracks, dirt or in the wintertime, snow, then it pays to have a bottle of water in stow. Whilst just sitting in a hot car can be a sweltering experience in the summertime.
Keep a bottle in the boot, refill it regularly so it doesn't taste of plastic, and you'll be able to stay hydrated and alert in a breakdown scenario.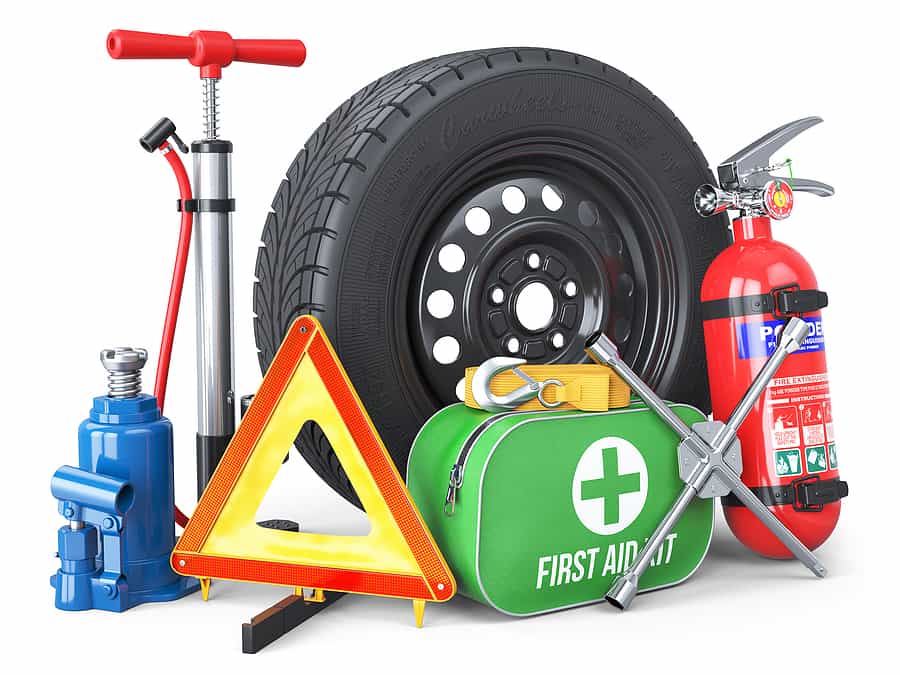 Nice to have items
These items might not be so needed, but you could be thankful you have them stashed in the boot…
Tow rope – if you find someone who is willing to give you a hand, then this can be an essential item to pull you out of a sticky spot. Be incredibly wary about being towed on ice and avoid at all costs.
Jump leads – the cold could run your battery down in winter, taking it below the power levels needed to start the car. Jump leads could get you out of a tough spot – if someone stops to help.
Empty fuel can – running out of petrol happens to the best of us. An empty fuel can could be a lifesaver if you want to get a litre or two to get your vehicle those last few miles to the filling station.
Long lasting food – like chocolate, dried fruit, nuts and seeds and anything that will survive for a long old time in the back of your car. It will keep your energy and spirits up in the event of a breakdown.
First aid kit – with everything from sticking plasters to tissues and pain meds. You never know what little emergencies might arise in a breakdown situation, and they could prove vital, if you have crashed into another vehicle.
Screen recovery stuff – such as screen wash, de-icer, antifreeze and a scraper. If you've been sitting in wintery weather waiting for a fix or petrol, it would be a shame if you couldn't get moving because of an iced up windscreen.
Boots with good grip – because let's face it, who wants to walk through even a few meters of snow, mud or rainwater puddles in their soft, driving shoes? Good boots will keep out the wet and the cold, and protect your socks from getting damp, leaving you with cold feet in the car.
Shovel – in case you get stuck in the snow. This can be a life saver when it comes to shifting the vehicle out of the soft white stuff.
Road atlas – giving you directions to important places, in case your phone has a fault, or you can't get a signal. May be worth investing in a good one, with filling stations and other important places of interest noted down.
And finally
In any breakdown situation the important thing to do is to stay calm. It's happened. Take some deep breaths and even laugh at the situation if you can. Keep the kids relaxed by making a game out of the situation, and be supportive of your partner. Remember you will get through it, and people will understand why you didn't turn up or were late. You've got this.