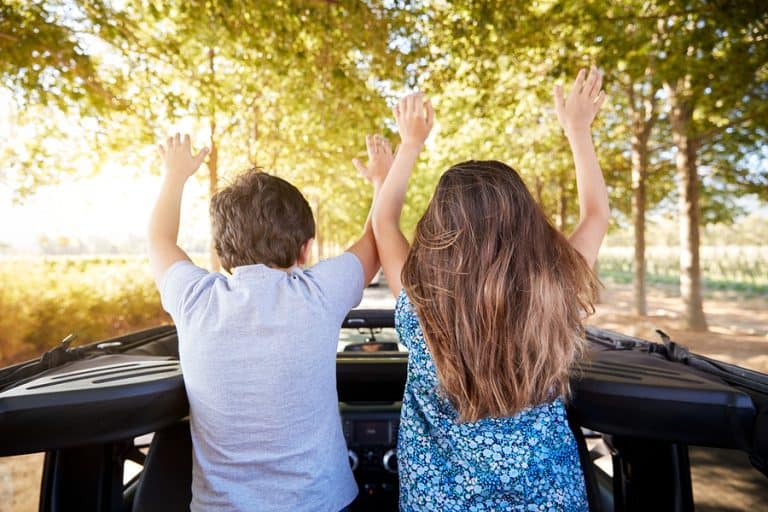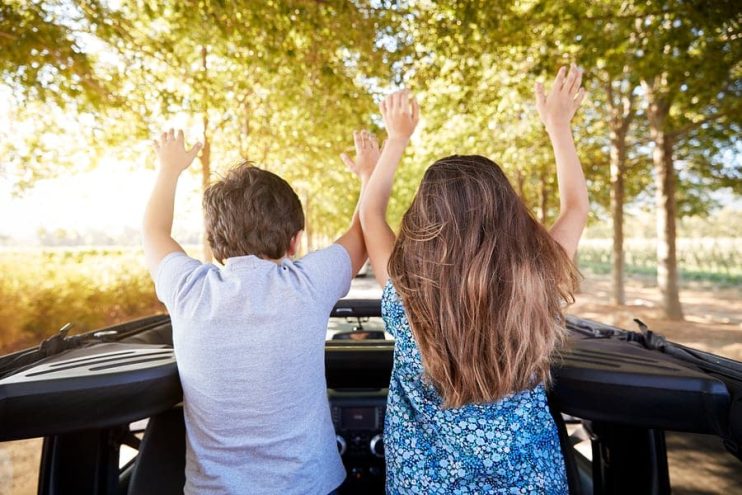 The summer holidays are most certainly coming. Together with your partner as your only support you are planning one of the most difficult missions. Deploying a successful road trip taking the kids somewhere – without arguments, annoyance or simply stopping the car and throttling your little cherubs.
It doesn't take Super-Nanny to work out that children generally become unhappy because of three reasons. They are either tired, hungry or bored – or any combination of the three. Can you manage to navigate the road trip, arriving at your destination on time, whilst keeping these three vital factors in check?
To help you on this near impossible mission we haven't got Tom Cruise. Instead we have put together our secret agent styled parenting road trips, so you can handle the little whingers like a high grade ninja.
Table of contents:
Every Good Boy Scout Knows…
You can't be those god-awful parents who preach a gospel of preparation to your kids, put them into the cubs or brownies and then fail to come up with the right stuff when it matters most.
Keeping little minds occupied for car trips is all about preparation. It's not only you and your sanity you need to consider here, as your precious ones need looking after and you can't simply get by on hobbling in the rain to the nearest pub if you break down or run out of petrol.
Make sure that you have covered the following points before you even sit down in your car and close the doors:
Emergency gear – the standard stuff that should be in the car. High visibility jackets, waters, a flash-light, chocolate, spare phone. Everything you need to get you out a tight situation.
Service and support – has the car had a full service recently? Have you made sure all the tyres are fully pumped and that all the oil and other fluids are properly topped up? And of course is the contract with the RAC or AA still up to date?
Weather Check – you may want to stay at home if there's going to be torrential rain on the roads, or take extra water if you've chosen to sit in the car on the hottest day of the year.
Everyone Rests – get a good night's sleep before the big journey. This goes for both you and the children as being well rested will reduce in journey stress. Unless of course you are planning on driving through the night in which case it's important that you have managed your sleep cycle successfully.
Child Friendly – if you do want to stop off at restaurants or eateries along the way, make sure they have the facilities to deal with younger children or if the option is there, go for stops with play parks or child activity areas.
Don't Leave Home Without It – Your "stop what you're doing or else face" – that you have practiced sufficiently in the mirror.
Proper Planning Prevents…
Every mission needs a good plan. It's often in the organisational room that success or failure is first established. Get things right on paper and it's generally a breeze. So what are our top tips for this vital stage in your operation?
The Best Time – choose a time when the roads are likely to be empty, especially if you have to navigate tricky urban estates or inner city avenues.
Plan for Stops – find some good places to stop and stretch along the way. Factor in extra time for exploration and remember that children will generally want to go to the toilet about 20 minutes after you stop for lunch.
Pick Somewhere Interesting – if you can combine car journeys with education, why not? Stop at a castle or an area of beauty on the way and sneak a little learning into those young minds.
Don't Leave Home Without It – we could say a SatNav, but that's all a bit too obvious. But what about when it doesn't work? This is when an old school map is a real godsend.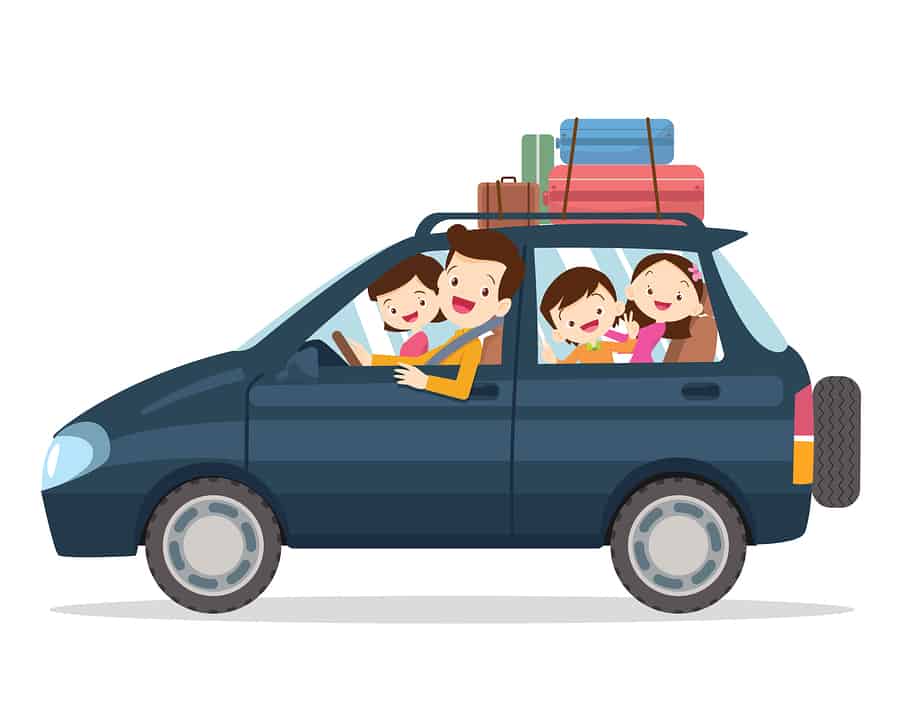 Packing
Keep the essentials well within reach. Try to think of everything you'll need in the car from books through to bottled water and make sure they are properly stashed for full deployment at the key stages of your long distance mission.
Having the right kit to hand in seconds can avert any emergencies, no matter how hopeless the situation may seem. It's also good to keep outside gear like jackets in the front of the car in case the weather changes.
Don't Leave Home Without It – wet wipes will hide a multitude of sins, but remember to have a bag for used wipes and other bits of rubbish. Keeping all the waste in one area will make for a simpler and less frustrating journey.
Food for Thought
Save food, snacks and sweets for emergencies, or ration out bite-sized pieces of chocolate or individual treats for convenience when the sugar levels are getting low. You hear a few horror stories of children choking on bigger snacks in the back of the car, so try to keep the bigger foodstuffs for stops.
Don't Leave Home Without It – yes, giving your children a drink, especially in the heat, will keep the car cool in more ways than one. The smart money however goes on non-spill cups that will protect your upholstery from all kinds of spills.
A Comforting Touch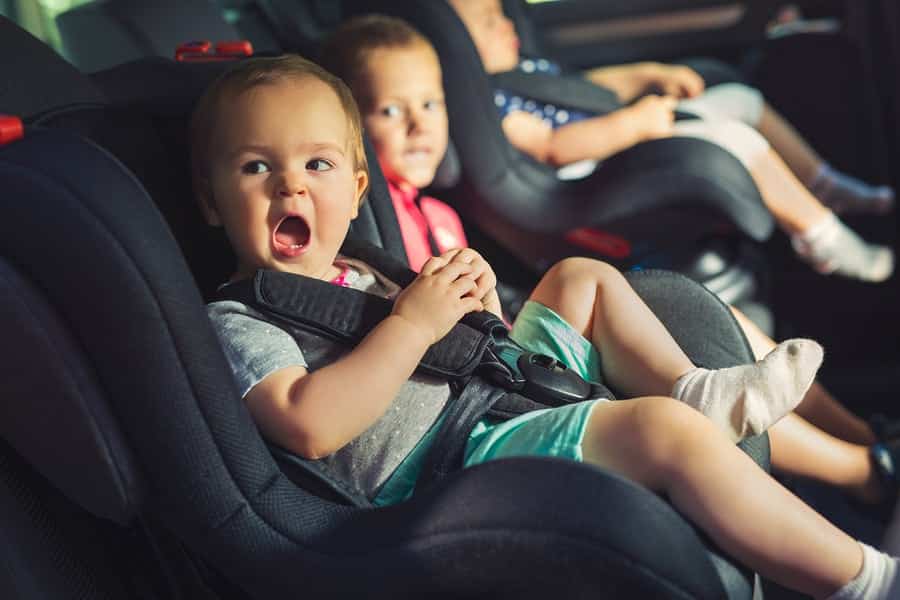 One of the key factors in managing behaviour is making sure your children are comfortable. Have all their favourite things around them from the magical blanket to favourite teddy bears and dolls to give them that relaxed feeling of the familiar.
Tissues and towels can help deal with spillages and keep a paper bag at hand for travel sickness as the wide opening will work better at catching fluids when compared to the classic carrier bag. Blankets are great for night journeys and a change of clothes, especially for little children will aid a quick recovery from any kind of accident.
Don't Leave Home Without It: pillows are great for when the kids can't get to sleep because of the uncomfortable car seat set up. Simply give them a pillow for reclining purposes and its problem solved.
Entertainment
These days there are so many materials and mediums you can use to keep your children occupied and amused, we thought we'd give you a number of key areas:
Back to the Old School
These are the classics. The things that rocked your world as a kid on a car journey will probably still work now. Consider the following:
Books – from individual picture books and stories through to a longer story book that you can read out for all the kids. Individual reading can also aid sleep.
Notebooks and pencils – let the children doodle and draw, but beware the permanent pens and go for coloured crayons or pencils instead.
Word searches – and other types of puzzle books are good when the energy levels drop, giving each child the chance to go at their own speed and disappear into thought.
Group Games – you must know these. Staples like I-Spy, count the red cars, license plate bingo, 20 questions and pirates can keep spirits high with everyone talking.
Music – leave the esoteric 1990s mixtape of Jump Up Drum N Bass where it belongs and find some fun, child friendly tunes giving everyone a chance for a sing-a-long.

Radio 4 – is often surprisingly soothing for little red faces and can often calm down everyone in the vehicle. Including mum and dad.
Don't Leave Home Without It: a school homework book. Not to actually make them do homework, but to use as a threat to make the other activities more compelling.
Futuristic Fun
Whilst Steve Jobs might not have liked to let his children use tablets, he probably had au pairs to entertain those little faces on long car journeys. For the rest of us the following items could well be a godsend:
Audio Books – saving you the trouble of having to tell a story – and you might even find something that's truly fun for all the family.
Computer Games – whether you're using the smartphone or the tablet, games and fun apps can keep everyone interested and alert during the journey.
DVDs – dust down that collection of old DVDs in the attic and get out the laptop and the children can have their own cinematic show in the back of the car.
Headphones – allow each child to immerse themselves in their own realm of entertainment with headphones. You might have to shout a little when you want their attention.
Don't Leave Home Without It: chargers. If you are going to rely on gizmos and gadgets for entertainment and the power runs out, your screenagers may well turn back into screamagers.
In Case of Emergency
No one wants the worst to happen when you're out on the road, but that doesn't mean that all accidents and prangs are avoidable. If something untoward should happen your first move should be to give the kids a cuddle and hold them. This will cure most things, but the following tips could help:
Ride It Out – let the crying stop and the children will right themselves, as long as they are not choking on a door handle that they have just detached and attempted to swallow
Stop at the Side of the Road – and everyone can calm down and take the time for a toilet break. Be prepared with toilet paper so that every type of eventuality can be accounted for.
Make a Game Out of It – should something bad happen and your children are very little then making a game out of things can stop them from becoming scared or traumatic.
Don't Leave Home Without It: a special treat in case everything goes wrong to take young minds off the difficulties – whether it be a traffic jam or a mechanical blow out.
And Finally
Of course the most important thing is for you to go with the flow and stay safe. Remember the journey will be over soon and you don't have to shout and get angry and be right all the time in such a confined space. Knowing what to let go and when to put your foot down is the key.
And finally let the world do the work sometimes. There's loads of brilliant and beautiful sights out there and your kids should be reminded of particular spots of interest and historical importance.