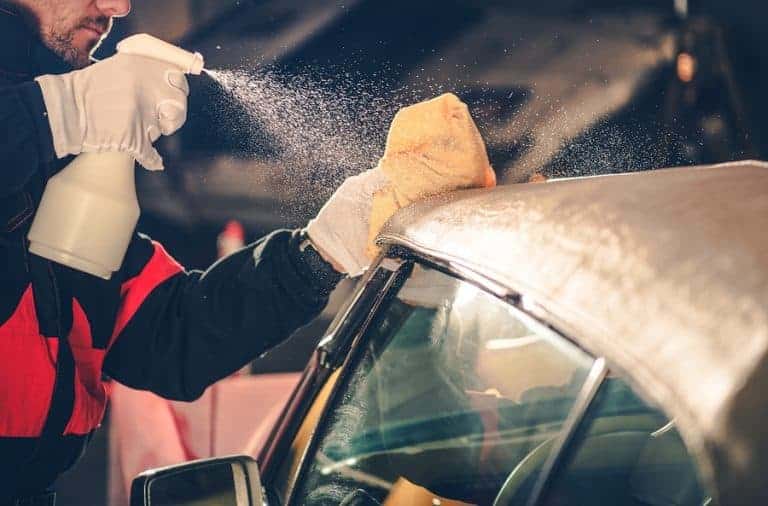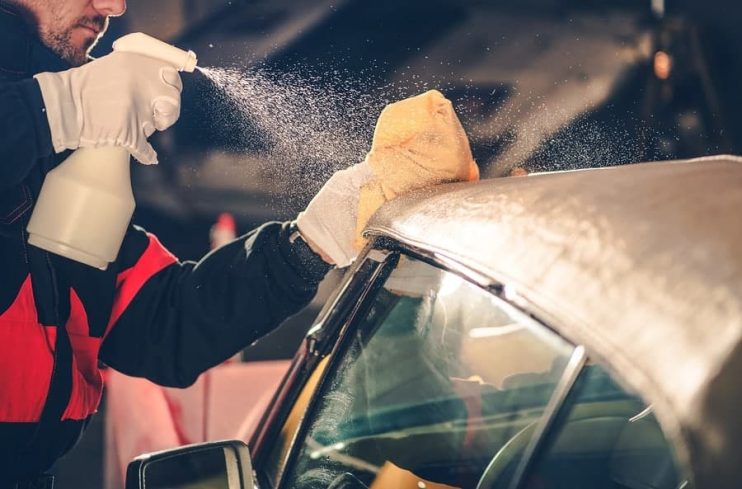 Keeping Your Convertible's Soft Top CleanNow that summer's starting to emerge from the cold clutches of winter it's time to get out in your convertible. However, you might find that the dirt accumulated on the soft roof over the winter from all the grit and muddy water on the road. Looking good is the whole point of owning one of these cars, so not cleaning the canopy is most probably not an option.
Whilst is can be a hassle to keep the roof clean, it can deteriorate if not looked after properly. Fortunately, we have put together another of our now internet-famous guides to help you get the muck and filth off your soft top. Convertible soft tops come in two different types. Vinyl and canvas. Each material has different cleaning requirements and it's important to know the difference, as you could make an expensive mistake with the wrong cleaning techniques and products.
How to Clean a Vinyl Soft Top
Vinyl tops might not give that same sleek look as their harder cousins, but thankfully they are easier to clean, maintain and keep looking the proverbial. But if you don't maintain them properly then the sunshine can cause lighter shades to turn shades of cream or even yellow, especially when combined with other chemicals.
What you will need:
Supply of clean warm water
Cleaner (check it is suitable for application)
Hoover and a brush
Softer nylon brush
Protectant spray
Soft cloth
And the procedure:
Hoover the outside of the canopy and gently brush to remove any debris, paying attention to hard dirt or mud spatters, which may come away with a little attention.
Using a cloth wet down the outside of the canopy using a gentle circular motion to apply an even coating of liquid.
Once the canopy is wet take care to apply the cleaner and leave it for a good quarter of an hour.
Scrub the cleaner with the soft nylon brush to remove the harder to shift filth off the car canopy, allowing you to get rid of any stains, grime and dirt. Start in one section and complete small areas as you work your way over the entire canopy.
Rinse off all the cleaner with warm water until all the convertible cleaner has disappeared. The simple test for this is checking that the water runs clear with no bubbles.
Dry off the soft top by patting it all over with a soft cloth, taking care not to wipe. The idea here is to simply use the cloth to finally pull off all the excess moisture.
Apply your protectant to the top of the canopy to form a barrier from the sun's rays and debris. There are many different products out there on the market so be sure to read the instructions for the correct application.
Vinyl tops have a reputation for cracking and scratching easily. When we say use a soft brush, pat gently and be careful, this is to ensure that any damage is avoided.
Good care starts with the right tools for cleaning and maintaining the canopy on a regular basis. Good brushes with the softest fibres stop small marks and scratches appearing in the material. Even if these cannot be seen, the enclave can act as a trap for mildew and mould, which can accumulate and spoil the whole look of your sleek car.
And finally, be conscious of what's in the cleaner. Ingredients such as alcohol and ammonia can dry out the vinyl and could potentially cause cracking, which is not only visible, but could eventually cause fissures in the integrity of the material.
Cleaning Soft Canvas Tops
You won't be surprised that canvas canopies are a whole different type of care schedule. Yes, we are still talking about a regular cycle of maintenance, but with a different focus. Look for signs of wear and damage on your canvas top that are distinctly different from those on a vinyl canopy.
The canvas fabric contains small grooves that are not present on their vinyl equivalents. These form tiny partitions that can trap dirt and debris that accumulates over time, and you will need to carefully inspect your top to prevent this problem.
The other big difference is the cleaning and protecting process. When the canopy is fully treated with a protectant, water should be repelled from the surface, effectively beading up on it. After cleaning and using a protectant, if you don't notice this phenomenon then it's a good idea to apply the protectant again.
What you will need:
Supply of warm clean water
Soft bristle nylon brush
Gentle car shampoo
Canvas canopy top spray
Rubber lubricant preservative
Plastic deep cleaner
Windscreen cleaner
Terry cloth
And the process:
Wet down the canvas soft top using a moderate amount of water, making sure not to weaken the roof by saturating it with moisture.
Apply the shampoo using the soft bristle brush. Gentle circular motions are best for getting rid of the hardcore trapped dirt and you're better off using more actions than pressing harder in your pursuit to remove the debris. Once this is finished rinse off all the bubble and foam using warm water.
Manage stains with the convertible top spray. Apply this deep plastic cleaner and leave for a few minutes and then wipe off the cleaner with a soft cloth.
Now you should be able to brush the top and get rid of the outstanding dirt that's gathered on the top. Give it another rinse with the water to make sure that all the dirt is gone for good.
Using a towel or soft cloth apply the rubber lubricant preservative to the protect the canopy from UV rays from fading the colour and the texture of the top and keep it looking sparkling clean. Remove any excess preservative with another cloth.
Finally wipe down the rear window with a terry cloth, apply a plastic deep cleaner to this area and wipe it down with a terry cloth, before using a different terry cloth to finish this area. Using a microfibre towel, apply a windscreen cleaner and clean checking the window is transparent. If there is any cloudiness or haze, try again by starting the whole process from the beginning.
A good tip is always checking with the car manufacturer for a preferred cleaning solution. Some cars will recommend different cleaners and it's always good to have a scout about online to ensure that you are choosing the best product for the material, or if you have general cleaning products, always read the instructions to make sure that it is suitable for the materials.
Also check for leaks in the fabric. It can crack over time and begin to leak. If your top starts to let in water, spray it with fabric guard as this will form a repellent layer that will stop moisture from seeping through the material.
And Finally
With the right care schedule, you can actually cut down on the work cleaning and maintaining your top. By choosing a program that adopts a little and often approach you can not only cut down your overall care time but ensure that your precious soft top is always looking its ultimate best.